Malian Ambassador Visits Dawa Industrial Zone (DIZ) and Meridian Industrial Park (MIP)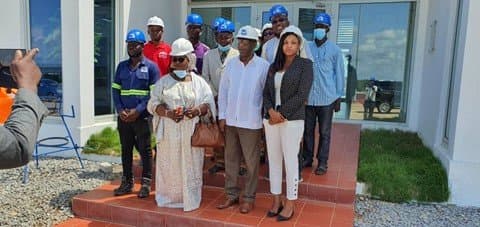 H.E Abdoul Kader Toure, Malian Ambasador to Ghana together with Mme Sangare Oumou Kondo, Second Consular and a company of high-powered delegation from Mali paid a working visit to Ghana's Biggest Industrial Hub (Dawa Industrial Zone) in the Ningo-Prampram District and Ghana's foremost Industrial Park (Meridian Industrial Park) in the Tema Free Zones Enclave. The Dawa Industrial Zone and the Meridian Industrial Park are industrial park initiatives by LMI Holdings, as part of their contribution to building Ghana's Special Economic Zones projects.
The Ambassador was overly impressed with the world class infrastructural development in both economic zones and commended LMI's vision which has resulted in raising $3.4B of FDI over 20 years and $5.4B of exports. He also expressed deep admiration for the all-African leadership team in charge of LMI Holdings. His expectation is to sign an MoU with LMI Holdings on a similar investment project in Bamako. He further extended an invitation to LMI to the upcoming Investment Forum in Mali that would be touching on Industrial Parks, Energy, Logistics, and the Continental free Trade Agreement.
More
updates