LMI And IFC Partner To Provide Clean Power and Water In Ghana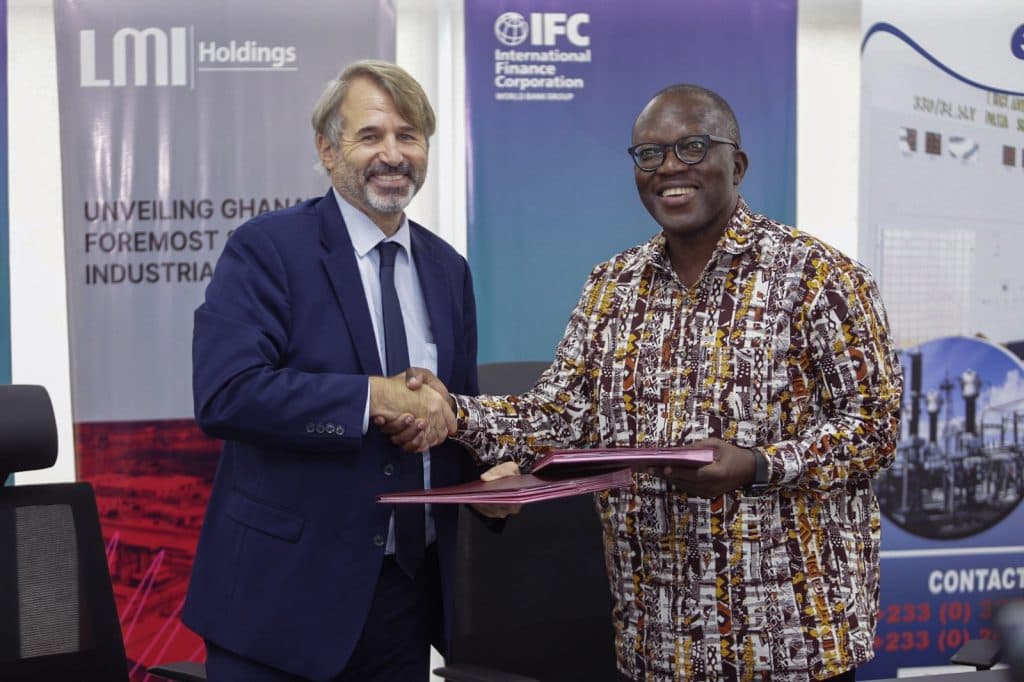 The World Bank Group's International Finance Corporation (IFC) and LMI Holdings have agreed to work together to deliver critical infrastructure services to manufacturing businesses in Ghana's LMI-managed special economic zones.
In accordance with the terms of the agreement, IFC would grant LMI Holdings US$30 million to support its expansion ambitions in the two industrial zones: Dawa Industrial Zone (DIZ) and Meridian Industrial Park (MIP), giving dozens of businesses the crucial infrastructure, they require to boost productivity and competitiveness.
LMI will construct a 16.8-megawatt rooftop solar plant that will supply energy to businesses operating in the Tema Free Zone (Tema FZ), a free zone on the outskirts of Accra, aiding Ghana's efforts to combat climate change.
Kojo Aduhene, the chief executive officer of LMI Holdings, said during the signing ceremony that LMI was devoted to the mission of assisting Ghana's efforts to industrialize and increase exports as a native Ghanaian business.
He claimed that because of their collaboration with IFC, LMI has the resources and room to stake a significant amount of money on Ghana. He emphasized the importance of electricity for all corporate operations and said that once the solar project was finished, it will usher in a new era of renewable energy production.
"We anticipate the solar project to be finished and operational by October 2023 and the water project to follow six months after that," He said.
Together with the water plant, LMI's solar power facility in Tema FZ is anticipated to cut Ghana's emissions by roughly 10,000 tons of CO2 equivalent yearly when compared to the country's current thermal power supply. The water plant will be the first privately owned industrial water production facility in Ghana.
He also revealed that other projects by LMI are in the works, chief among them the development of the unfinished solar and water projects and the creation of a new industrial zone in Yapei, in the Savannah Region.
"The water project will have to be expanded. After the initial study, we found out that there is a great need for water so we will be looking at expanding the capacity of that plant. The ultimate capacity of that plant will be 110,000 cubic metres of water per day.
"On the solar side, the goal of LMI is that by the year 2030, we will be generating a 1000 megawatt of power. 1000 megawatt is the capacity of the Akosombo Dam as it is now so by the year 2030, we will be generating from solar what Akosombo is currently generating," he stated.
"We have also cut sod for the construction of another economic zone in the Savannah region. We believe this will help in the industrialisation drive in the north," he added.
Mr. Aduhene noted that over 100 manufacturing firms operating in the two economic zones, had contributed more than US$4.3 billion to the national economy of Ghana.
The Tema FZ was primarily developed by LMI, a highly diversified Ghanaian firm with interests in the building, real estate, logistics, utilities, and ICT sectors. The Tema FZ is home to more than 80 businesses engaged in a range of industries, including building materials and agro-processing. As part of the construction of Dawa City, a brand-new city 40 kilometers to the east of Accra, LMI has already established its second industrial park, which spans 2,000 acres in total. The Dawa Industrial Zone is Ghana's ultramodern location for all types of industry. This new LMI flagship is a fully serviced industrial park with infrastructure to accommodate all light and heavy industries such as the Automotive, Pharmaceutical, Textiles and Garments, Steel fabrication, Cement manufacturing, Agro-processing, Warehousing and Logistics industries.
Contact Investor Relations:
Email: enquiry@diz-ghana.com
Tel: 0552030000 / 0552040000
More
updates