Dawa Industrial Zone Launches a Global Network for Commissioned Brokers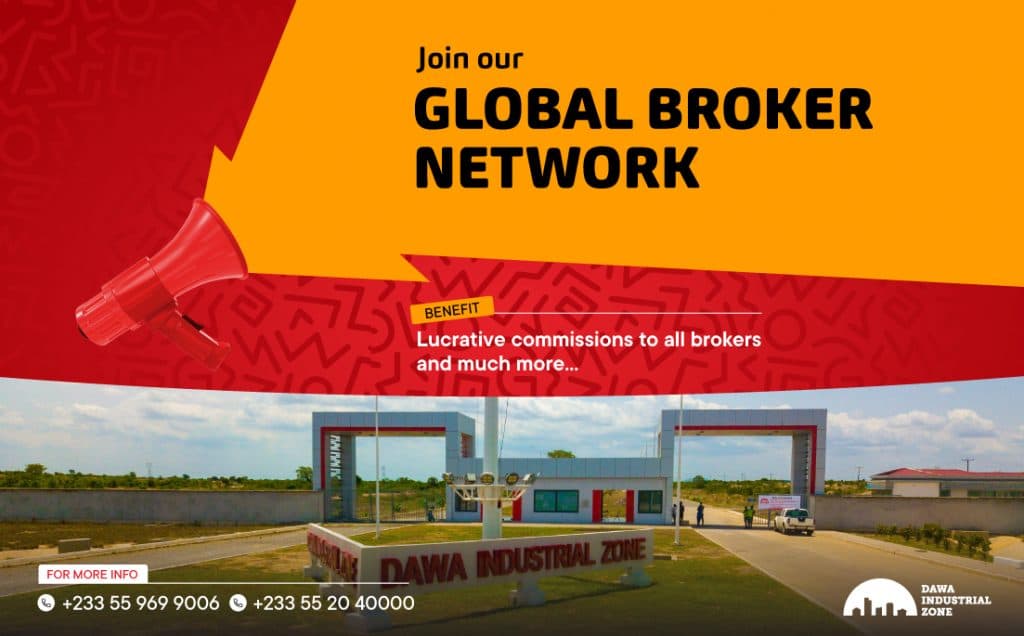 Dawa Industrial Zone (DIZ) Ghana, with its aim to attract FDIs, has launched its global network for commissioned brokers who will broker industrial occupancy for the industrial park to local and international industrial investors.
The Global Broker Network is made up of people who share a common interest in drawing local and international investors and entrepreneurs to the Dawa Industrial Zone, to establish their industries. The network will, again, function as an international hub where brokers can network with each other, instantly ask questions and learn, plus post documents to share best practices.
As a broker, you will get to enjoy the following benefits:
Be part of a highly diversified Ghanaian conglomerate with a presence in construction, land investments and development, real estate development, warehousing and logistics, utilities, and ICT sectors in Ghana
Fast selling 2000-acre of a multi-purpose industrial park which has been demarcated to suit special industry groupings
Availability of specialized and reliable in-house consultancy services relating to land purchases in Ghana
Over 25 years of expertise in the industry
Generous commission plan for our brokers
Strategic and central location in West Africa, providing access to the ECOWAS market of about 400 million people
This initiative seeks to contribute to DIZ's ongoing efforts to develop and strengthen the country's industrial zone structure. Become a member of our Global Broker Network today and increase your earning power.
Attracting FDIs to the center of the world
END.
Contact Investor Relations:
Email: enquiry@diz-ghana.com
Tel: +233 (0)26 585 7233 / +233 (0)55 969 9006 / +233 (0)55 204 0000
Website: www.diz-ghana.com
WhatsApp: bit.ly/3OIlo9T
More
updates