65th INDEPENDENCE ANNIVERSARY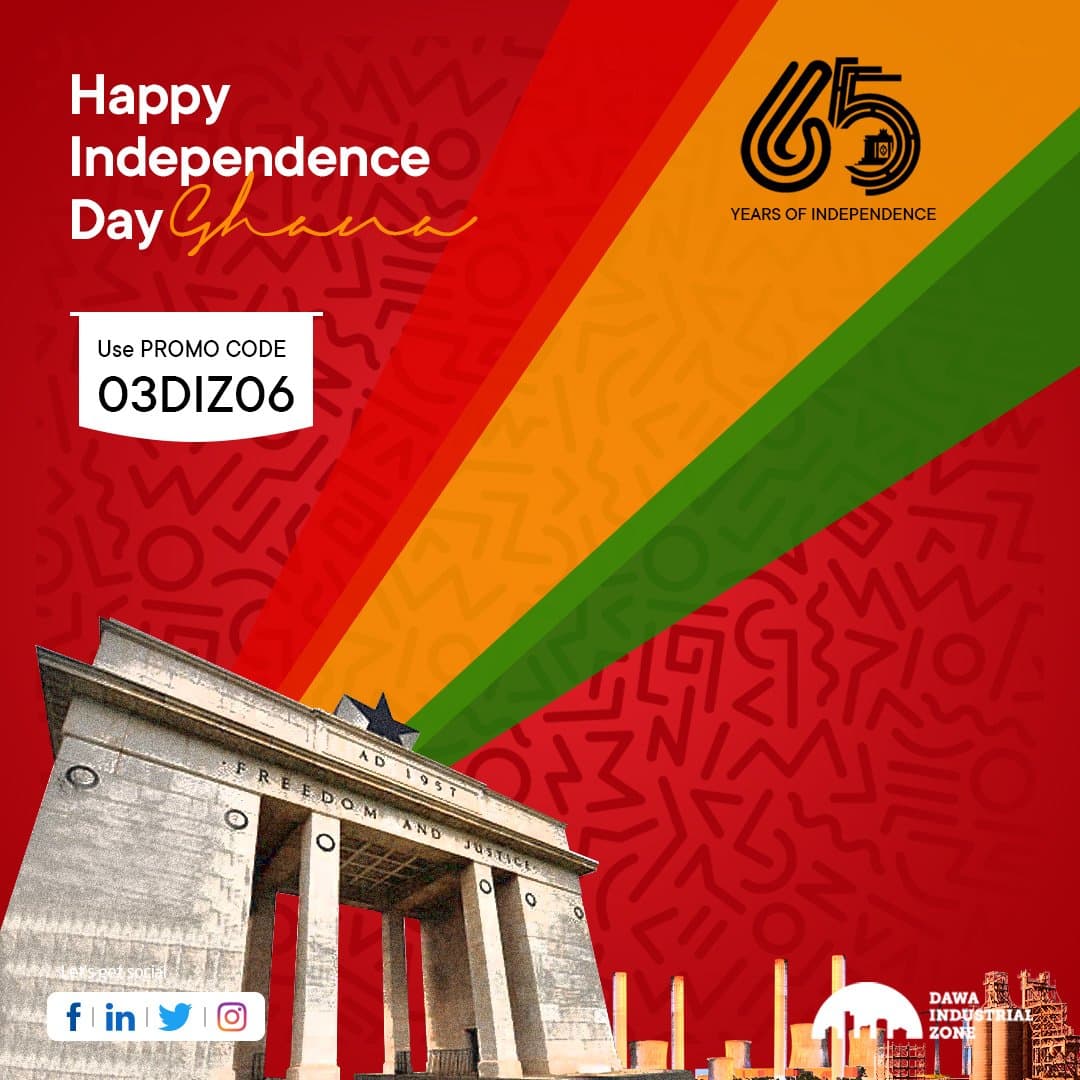 WISHING GHANA GROWTH WITH DEPTH
(Diversification, Export competitiveness, Productivity, and Technological advancement with High income and employment)
Osagyefo Dr Kwame Nkrumah, Ghana's First President at the 1963 OAU Conference cited two critical urgings that are relevant today: for Ghana on her 65th Independence Anniversary (March 06, 2022), and for the Continent of Africa on the implantation of the Continental Free Trade Agreement.
First, he argued that unless Africa establishes great industrial complexes, political independence will mean nothing to the African worker, and all our peasants on overcrowded land gained from political independence.
Again, he quizzed how else Africa will establish an internal market for our own industries by belonging to different economic regions, instead of a common trade area breaking down the currency and trading barriers among African States.
54 years on, Ghana's President Nana Addo Dankwa Akufo-Addo at Ghana's 61st Independence Anniversary birthed a vision called Ghana Beyond Aid. Three Months after he unveiled the charter and a strategy document which will guide the nation in attaining the Ghana Beyond Aid agenda.
The Ghana Beyond Aid recounts Nkrumah's strategic goal for the whole continent's economic liberation into a vision based on 5 broad goals: A Wealthy, Inclusive, Sustainable, Empowered, and Resilient Ghana, or in short, a W.I.S.E.R Ghana.
The vision calls for transforming our economy, which is now based mainly on the production and exports of raw materials, to one based on manufacturing and high value services. A Ghana Beyond Aid is a prosperous and self-confident Ghana that oversees her economic destiny; a transformed Ghana that is prosperous enough to be beyond needing aid, and that engages competitively with the rest of the world through trade and investment."
The aim is for Growth with DEPTH – i.e., Diversification, Export competitiveness, Productivity increases, and Technological upgrading, which generates High income and employment.
Dawa Industrial Zone makes this Growth with DEPTH objective, a possibility not just for Ghana but the entire continent of Africa through a common trade platform – AfCFTA (African Continental Free Trade Area) with its payment plugin PAPSS(Pan-African Payment and Settlement System).
END.
Contact Investor Relations:
Email: enquiry@diz-ghana.com
Tel: 0552030000 / 0552040000
More
updates